New Jersey Car Accident Attorney
You are not the only one who gets into an accident. The other driver also has rights; they can be your best friend or worst enemy. You need to know how to deal with this person after an accident because it can make or break your case. New Jersey Injury Lawyers P.C. can help you navigate these issues.
If you've been in a car accident, there are some things that you should know. Here are some tips on what to do if you are involved in a traffic accident and what steps to take if the accident was the fault of another person.
What to Do After a Car Crash
When you're in a car accident, the most important thing to do is get medical attention immediately. This can save your life. The second most important thing is to call the police and file a report on what happened.
Usually, the first steps are as follows (the order will change depending on your situation):
Medical care, making sure everyone is okay
Make sure there are witnesses and double-check their story regarding the accident or the events leading up to the accident, if possible
Contact an attorney
Call the police (which becomes priority #1 if someone needs urgent medical attention)
File a claim with the insurance company
Need help charting the right course of action? Get a free consultation from us. Here at New Jersey Injury Lawyers P.C., we have handled scores of cases of all varieties of car accidents. Call our law office today to discuss your injury with one of our car accident lawyers in New Jersey.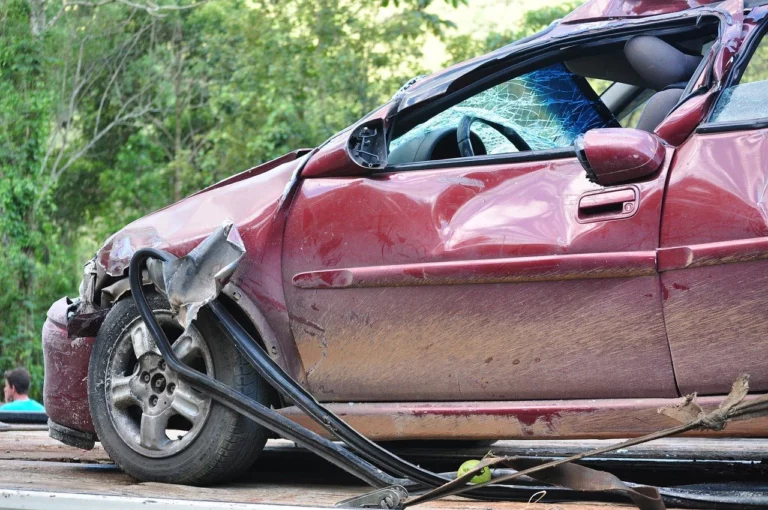 What can I do to protect my rights after a car accident?
If you have been involved in a car accident, there are several things that you can do to protect yourself.
Get Medical Attention
The most important thing is to get medical attention as soon as possible, even if it is only for a few minutes. If possible, go to the nearest hospital emergency room and tell them about your injuries. This will allow them to treat your injuries properly and speed up recovery time. If someone has been injured or killed, make certain that they are okay before you start dealing with the others involved in the accident.
Gather Witness' Information
If there are witnesses at the scene of the accident, ask for their name and contact information. This is so you can ask them to come forward and testify to what happened during the accident if your case requires it.
Call the Police
Calling the police is also one of the first steps. They will send an officer to your location and take down details of the accident. If you have any injuries, they will also ask you to go to the hospital for treatment.
File an Insurance Claim
The next thing you need to do is file a claim with your insurance company. This is because the insurance company will provide financial compensation for your injuries and losses if you win a lawsuit against them.
Talk to an Attorney
Another thing that can help is contacting an attorney immediately after the crash. An attorney can help with legal matters such as filing claims against other drivers and insurance companies, collecting damages from those who were at fault for causing your car crash, and more.
If you hire a lawyer immediately after an accident, he/she can help you prepare for trial and ensure that everything is done correctly and legally. For example, if any witnesses saw what happened during the accident, they can be subpoenaed by your lawyer so they can testify during the trial.
What are the benefits of retaining an attorney after a car accident?
There are some good reasons to hire a lawyer as soon as possible after you've been involved in a car accident.
First, it's very easy to make mistakes when you're in shock and emotional turmoil. You may not remember what happened or how your injuries occurred, and if you don't know the law, it can be hard to tell your options. A lawyer can help you evaluate the situation and ensure you get the best outcome possible.
Another benefit of hiring an attorney is that they can review police reports and other evidence to determine whether there was negligence on the part of the other driver or any other party involved in your accident. If they don't think there was, they may file suit against the other person(s) responsible for causing your injuries. This is important because it allows them to seek compensation for damages exceeding their fees without relying on court costs alone.
Lastly, if you hire an attorney and he or she wins your case, this might encourage other drivers to take responsibility for their actions so as not to face similar suits from others who they have injured.
A car accident lawyer in New Jersey can help you greatly if you're in a legal tight spot after a car accident. Don't let your medical bill pile up without getting the right compensation you deserve.
What kind of lawyer do I need for a car accident claim?
If you are injured in an accident, it's important to contact an accident attorney immediately after the accident occurs. You need someone experienced in handling personal injury cases who will help you recover damages from the at-fault party/parties, including medical bills, lost wages, and pain and suffering.
Lawyers who specialize in personal injury cases can help by:
Filing a claim for compensation for emotional distress or other damages resulting from the accident;
Closing out the case with all parties involved; and/or
Representing you in any subsequent legal proceedings related to your case.
How to Prepare for a Car Accident Lawsuit
Preparing for a car accident lawsuit starts while you are at the scene of the crash and continues even after the accident itself.
During the Car Accident
First, you need to take the necessary steps while at the car crash scene. This includes getting medical attention for yourself and other parties involved, informing the police of the accident, and gathering evidence of the accident (such as pictures and witness information).
Once you have taken these steps and ensured your safety, you should reach out to an experienced New Jersey car accident attorney. An attorney will be able to advise you about your rights and responsibilities after the incident, and will also help you file claims against those who caused your injuries or property damage.
After the Car Accident
After you receive treatment, you should gather documentation of your injuries. This includes medical bills, scans or X-rays, presciptions, and other medical document that shows the extent of your injury, the medical care administered to you, and any treatments required help your injury heal.
You will also need to file an insurance claim with your insurance provider. Your lawyer will help you with this process by getting the police report and gathering the required evidence to file your insurance claim. Your lawyer will also represent your interests in settlement negotiation with the insurance company to make sure you get the compensation you are entitled to.
If you are involved in a car accident, you need to hire the best lawyer to get the maximum compensation for your injuries. If you do not have insurance or if your insurance company denies your claim, it will be very difficult to win your case. As an accident victim, you should be focusing on recuperating. That is why we, at the New Jersey Injury Lawyers P.C., make it our goal to help victims of personal injury like you get back on track. We'll fight for your rights while you take the time to recover and heal.
How much damages am I entitled to for my car accident injuries?
If you are injured in a car accident in New Jersey, the damages you are entitled to in an injury claim will be determined based on the specific circumstances of the accident, who was at fault, and the extent of your injuries.
Economic damages refer to compensation for objectively verifiable monetary losses such as past and future medical expenses, loss of past and future wages, property damage, and other related expenses. These damages are meant to reimburse a victim for the actual financial losses connected to an accident and injury. They are often proven using bills and receipts related to the victim's medical care, missed time at work, and other financial losses.
Non-economic damages are intangible losses that are associated with an injury. These damages are meant to compensate a victim for things such as pain and suffering, emotional distress, mental anguish, physical impairment, decreased quality of life, and loss of enjoyment of life. These damages are not associated with any type of financial loss and are difficult to place a monetary value on.
If you or your loved one is going through difficulties due to an injury caused by another driver's negligence, file a car accident claim to recover economic damages and property damage with a seasoned car accident lawyer. At New Jersey Injury Lawyer P.C., we make it a point to educate our clients regarding their cases. Contact us today, and let's talk about your automobile accident.
Is there a statute of limitations for New Jersey car accident claims?
The statute of limitations period in New Jersey is the same as the longer period that is applicable to all personal injury cases, according to section 2A:14-2 of the New Jersey Statutes. This means that any injury claim brought by a driver, passenger, motorcyclist, cyclist, or pedestrian must be made within two years after the underlying automobile accident.
If you are in a car crash in New Jersey, make sure to get legal advice from a reliable car accident lawyer. An experienced lawyer can help you ensure your claim is on time and the pieces of evidence you need to support the injuries you obtained due to an automobile accident are present at the moment it is needed.
How to Win Your Car Accident Claim
If you have been injured in an auto accident, then you should take action immediately. You need to file a personal injury claim as soon as possible after the accident. You can do this by contacting an attorney and filing a lawsuit against the other party involved in the accident. The purpose of filing a car accident case is to recover compensation for your medical bills, lost wages, and pain and suffering from the injuries you sustained due to the crash.
Filing a personal injury claim requires extensive documentation of your injuries and any expenses that were incurred because of it. All parties involved in the crash must be notified of your intention to file a lawsuit so that they can be called as witnesses at trial should it occur.
It's important to prepare yourself before filing a lawsuit by gathering all of the relevant information about your case and documenting it properly. Here are some tips:
Take photographs of both vehicles involved in the crash, including license plate numbers and other identifying features such as paint color, interior trim, and shape of wheels.
Collect witness statements from those who witnessed the crash.
In most cases, the car crash victim is at fault for the accident. This means that he or she is generally responsible for paying for damages caused by the collision. Even if you believe that you were not at fault for the accident, you may still have a case against your insurer.
However, many victims do not realize their rights in this area and settle their claims with the other driver's insurance company without consulting an attorney. A skilled personal injury attorney can help you determine whether you have a case against your insurance company and what options you have available to you if so.
If you have been involved in a car accident and suffered injuries, you need to understand that insurance companies will fight hard to defend themselves and minimize their financial costs. But if you can prove that the other driver was at fault for causing your injuries, then you should be able to get compensation for medical expenses and damages.
The first step in winning a car accident case is determining who was at fault for causing the accident. If there is no proof of liability on the other driver's part, then you may not be able to collect any money from their insurance company.
To win a car accident case legally, it is important that you can prove that the other driver was, in fact, responsible for causing your injuries. To do this, you must know what kind of evidence can be used against them during court proceedings. For example, if they were speeding or driving without a license plate, this could be used against them during court proceedings as evidence that they were negligent and caused your injuries and those of others involved in the accident.
There is no formula for winning a car accident case, but there are things you can do to help your chances.
Here are some of the most important things you can do to increase your chances of winning your case:
Get a lawyer
Make sure that you get all the information related to the accident right away (don't wait until after the insurance adjuster comes)
Understand what happened in the accident and take notes about what happened
Be honest about what happened and don't lie about it or try to hide it from them (remember, if they think you're lying, they may not believe that you were at fault)
Save any evidence from the accident (any photos, videos, or documents) so that it can be used later in court
Call our New Jersey car accident lawyers today!
Our law firm has the best car accident lawyers in New Jersey who are experienced with the ins and outs of New Jersey personal injury law. We handle all types of personal injury cases, including all types of car accidents and vehicle accident cases. Aside from car accidents, we also handle:
Truck accidents
Motorcycle accident
Single-vehicle accidents
Pedestrian accidents
Bicycle accidents
Boat accidents
…and more!
But I want the best car accident lawyer near me, and only the best auto accident lawyer – no subpar attorney. Can you help?
Of course! As an esteemed legal firm equipped with all the tools and tricks of the trade, we at New Jersey Injury Lawyers P.C. offer attorneys that excel in all types of car accident cases.